NEWS 2023
KOŠICE NIGHT RUN 2023: REGISTRATION FOR YOUR FAVOURITE NIGHT RUN LAUNCHED
Posted by: Administrator, 07.07.2023
Kosice Night Run
is writing its 9th chapter, and you can be part of it.
Registration for Košice popular night race has started and you can already secure the place and join the hundreds of athletes who will be at start line on 08.09.2023.
Kosice Night Run
traditionally dominates the historic center of Košice after dark and sports lovers can once again enjoy 5,5km and 10 km long track.
Characteristic of
Kosice Night Run
is an attractive music program, which organizers prepare this year too. Košice night run is for runners - but also for all cheering relatives and friends.
NEWS 2019
KOŠICE NIGHT RUN 2019 HAS STRENGTHENED ITS POSITION AS THE MOST PRESTIGIOUS NIGHT RUN IN SLOVAKIA
Posted by: Administrator, 07.09.2019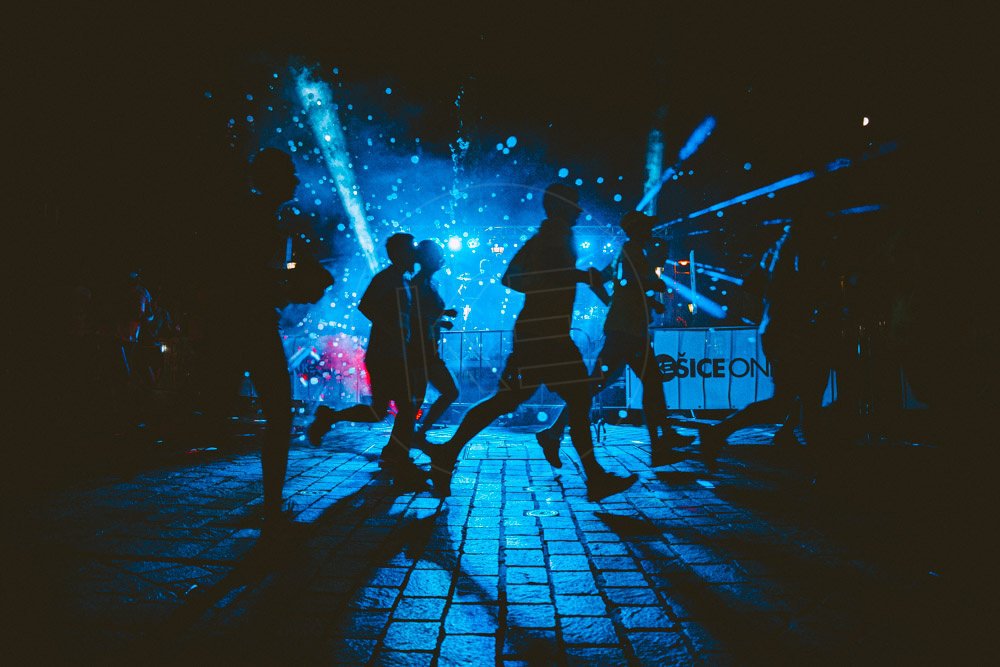 On Friday (September 6th),
Košice Night Run
transformed the metropolis of the East into an unconventional but very attractive running track, where thousands of a healthy lifestyle and running enthusiasts were part of.
Almost 1700 runners entered the eighth year of the run
and more than 200 children from Košice elementary schools joined the group, which is already a great tradition of the event. The illuminated ten-kilometre track was complemented by music, whether coming from musical stages or thanks to the drum show Campana Batucada and Bubonz. A novelty, which was appreciated by runners and visitors, was pyrotechnic effects in the form of fire escorts, which made the track even more attractive. Smoke bubbles in the vicinity of Immaculata were a pleasant diversification of the run.
PHOTO GALLERY I. | PHOTO GALLERY II. | PHOTO GALLERY III. | VIDEO | RESULTS
THE AMBASSADORS OF THE PRESTIGIOUS KOŠICE NIGHT RUN ARE RUNNERS THEMSELVES
Posted by: Administrator, 05.09.2019
A unique atmosphere that can be created only by a vibrant musical background and hundreds of runners and visitors - this is also the eighth year of
the most prestigious night run in Slovakia.
Runners will enjoy
Košice Night Run 2019
this Friday September 6th, start is at 20.00 and the main route will traditionally lead through the historical centre of Košice. This year, however, brings new changes in the form of a modified track; its length remains the same - 10 km. The start itself returns to the Lower Gate, where visitors can find the main stage. Pupils of Košice elementary schools will run 5 km.
KNR 2019: BE PART OF THE 8TH YEAR OF KOŠICE NIGHT RUN
Posted by: Administrator, 27.08.2019
Night runners will be on track on 6th of September.
The center of Košice will be transformed into a large running track in ten days.
The perfect atmosphere will be created again by the athletes along the track and in the finish.
Košice Night Run
has a fixed place on the running map and is not popular only with the East-born athletes. Every year, runners from all over Slovakia and abroad apply for the run. On the 10 km (10K) track, professionals and recreational runners will meet on 6 September. Pupils of Košice elementary schools will also be at the start and run one circuit (5K).